Portable Roughness Tester
The WARPsurf is a turning point in the world panorama of the instruments for surface analysis, because it gives in a single portable instrument the capability to perform both roughness and profilometry analysis.
The brilliant 7'' touch screen display, combined with modern user interface, allows the user to become quickly familiar with the instrument, setting easily the measure parameters, positioning on the piece and performing the analysis.
The instrument is equipped with a 1GHz microprocessor that allows to have a fluid system and fast processing even with complex profiles.
Extremely compact and handy, the WARPsurf allows to position easily on big pieces thanks to the integrated micrometric that covers 110 mm range.
Thanks to the standard USB interface, it is possible to plug a regular USB drive to save images or PDF reports; using this interface the instrument can connect to a common desktop printer and directly print on A4.
The instrument is shipped with two interchangeable styluses, one for roughness and one for profilometry to be able to analyse surface features as well as dimensional ones with just one instrument.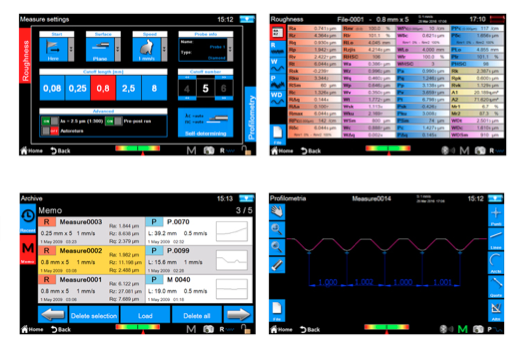 FEATURES:
Measurement range
±1500μm
Resolution
0,0001 µm – (0,1nm)
Cut-off length
0,08 – 0,25 – 0,8 – 2,5 – 8 mm
Cut-off number
Selectable from 1 to 20 (1 to 6 for 8 mm cut-off)
Traverse length
Up to 60 mm
Pick up
Inductive, it can be rotated of 90′ for lateral measurements and interchangeable styluses
Measurement parameters
75 roughness parametersRa, Rq, Rt, Rz, Rp, Rv, Rc, Rsk, Rku, RSm, RΔq, RΔa, Rmax, Rδc, Rmr, RPc, RLo, Rlr, Rzjis, RHSCPa, Pq, Pt, Pq, Pv, Pc, Psk, Pku, PSm, PΔq, Pδc, PPc, PLo, Plr, PHSC

Wa, Wq, Wt, Wz, Wp, Wv, Wc, Wsk, Wku, WSm, WΔq, Wδc, WPc, WLo, Wlr, WHSC

Rk, Rpk, Rvk, Mr1, Mr2, A1, A2, WDSm, WDc, WDt

R, AR, Rx, W, Aw, Wx, Wte, Rke, Rpke, Rvke, Mr1e, Mr2e, A1e, A2e

Available charts
Roughness, Waviness, Dominant waviness, Primary, Material ratio curve (bearing) and height amplitude distribution (density).
Unit of measurement
Millimeters and inches
User interface
Color display touchscreen TFT, 7 inches, 3 impermeable membrane switches
Languages
Italian, French, Inglese, German, Spanish, Portuguese, Japanese, Chinese, Korean
Memory
Up to 4000 measurements for roughness – Up to 1000 for profilometry
CAD
Functions to process the integrated profile,
Points: carthesian – on the profile – intersection – limit – maximum –  minimum
Lines: best-fit – polar – interrupted – between two or more points – parallel
Arcs: best-fit – interrupted – between three or more points – center and radius – tangent
Dimensions: Aligned – Vertical – Horizontal – Radius – Angle – Line-point distance
Advanced: Axis alignment – Z magnification
Visualization: Pan – Zoom
Printing
1- Capability to print on a common USB desktop printer in A4 format (Example: HP deskjet)
2- Capability to print to PDF on a USB drive
3- Printing on a PR11 device using Bluetooth connection

Equipment

WARPsurf roughness tester with SB200 probe and two styluses (Stylus 1-Y roughness – Stylus 4 profilometry, Battery charger 110-230V, Roughness specimen, Plastic case, User manual