The Remote 10 software, was originally developed as an extension of RT-10 palm roughness tester. However it represents the ideal solution for the management of elaborations and acquisitions arriving from the instrument. Moreover, as indicated by its name, it is also used to control the RT-10 remotely. It integrates the easy-to-use characteristics typical of new SM software packages.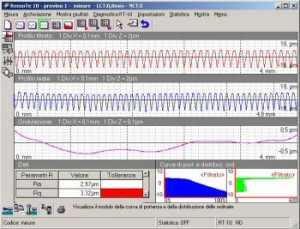 Main characteristics :
1 – RT-10 Remote control features:
Display and Setup of measure parameters
Measure Start with Automatic Display, or Display only.
Tolerances Display/Setup (for 1 parameter).
Memo Display
Display and Setup of Print Heading for PR10 printer.
Switch-off.
Supply Control and Test
2 – Measure parameters Management with the possibility of use multiple "measure configurations" to be used in the same program for several users, or for different processing.
3 – Display of measure results completely modular, with the possibility to select among different combinations of result presentations. Magnification capability in order to display with a better detail the profiles characteristics.
4 – File Management based on "codes"; every code can represent the id of a processing type or user and contains the related acquisition data. Backup and Recovery feature; Data export in ASCII text format (Microsoft Excel compatible) for further analysis; Stored Profile Preview: you can control a profile preview before you load it in memory.
5 – Statistics Management based on "codes"; at every code a series of statistical data is automatically assigned. For every series you can calculate: maximum and minimum value, average, and standard deviation. Activation and deactivation of statistic mode. Data Export in text format (Microsoft Excel compatible) for further analysis.
6 – Report Print completely modular with selection among different combinations.
7 – Memory data Management with the possibility of selecting data to print. Backup and Recovery of acquisition data, data export in text format (Microsoft Excel compatible) for further analysis; possibility to transfer the Acquisition Data input into Statistic for further elaborations.
8 – Calculation of Portance Curve (Abbott) and Ordinate distribution.
9 – Several Integrated functions, for software and data Management.
10 – Complete multi-lingual management. User interface selectable in all the languages available among.
11 – Automatic connection between software and instrument. At every PC bootstrap, the RemoTe10, automatically controls and configures the connection port. without any operator activity.