The ConturoMatic T2 offers a really versatile solution for the measurement of virtually any external or internal profile.
As you will see below, the T2 measuring capability is unusually large for this type of instrument. Measuring accuracy achieved is higher than other comparable contour machines, due to a combination of the very high precision horizontal travel and the unique Z axis design.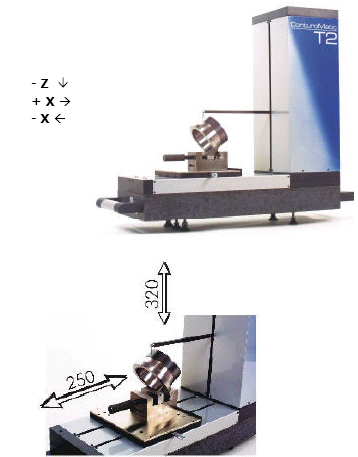 Both X & Z measurements are made via noncontact high resolution measuring scales.
The use of the large traveling table, means work-holding fixtures can be sizeable. When measuring components, the full travel range of 250mm (in the Y axis) X 320 mm (in the X and Z axis), is available for use.
These high precision co-ordinate movements are linked to the most comprehensive software for the rapid
evaluation of the traced contour. The software combines versatility with easy to learn and use attributes

Mechanical Specification
Measuring range: 250 x 50 mm
Measuring systems: Non contact, optical, incremental in both axis.
System Resolution: 0.033 µm
Measuring speed: Automatic optimized (0.5 – 3 mm/s)
Positioning speed: Variable up to 40 mm/s
Stylii: Plug in QuadraMatic Styli with max stiffness factor. Calculated compensation for
dynamic bending effects.
Measuring tips: Standard Q.P.T. contour measuring tips with 25µm tip radius.
Measuring tip compensation: Calculated tip form compensation
Guide Bearings: Self-adjusting, maintenance free bearings.
Transmission system: Maintenance free for life.
Control System: Integrated T&S UNI-MESS, control system.
Safety Features: Drive systems limited mechanically and electrically.
Support Table: Integrated, surface 200 x 250 mm, 13 mm Y-axis adjustment. 17 Kgs load capacity
System Accuracy: + (1,5 + L/100) µm, ?L = measuring length in mm) measured by an angular
inclined straightness standard. This system error includes the sum of all
measurement and mechanical errors.