Without changing mechanically or electronically the Conturograph or C4P system with drive unit either CV 50 or CV 200 can be upgraded. Directly connected to a control unit and a standard PC, on which runs the Conturomatic Software the system is up to date again.
Even the evaluation speed and the accuracy is much higher than before, because all mechanical influences are compensated electronically.
Repair or exchange of the drive unit and all services on system MAHR® are made by skilled engineers.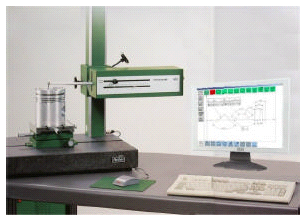 Retrofitted Contour measurement system with:
- CV 200
– Conturomatic N1
– Measuring stand PST-SE
– XY-crosstable PKT
– Software Conturomatic