The ConturoMatic CV 250 offers a really versatile solution for the measurement of any external or internal profile.
The part to be measured is placed directly on the granite plate or on any available XY-crosstable.
Due to the Multi-contour-function, the movement of the tracing-arm can be combined with the movement of the Z-axis of the motorized measuring stand.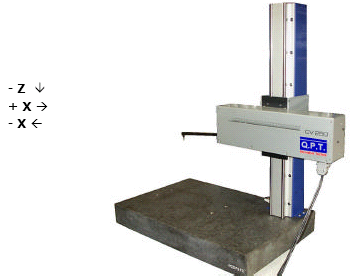 Mechanical Specification
Measuring range: 250 x 320 mm
Measuring systems: Inductive system on linear axis.
System Resolution: 0.05 µm
Measuring speed: Automatic optimized (0.5 – 3 mm/s)
Positioning speed: Variable up to 40 mm/s
Scanning force: 40 mN / 4g
Stylii: Plug in QuadraMatic Styli with max stiffness factor. Calculated compensation for
dynamic bending effects.
Measuring tips: Standard Q.P.T. contour measuring tips with 25µm tip radius or ruby ball insert.
Measuring tip compensation: Calculated tip form compensation
Guide Bearings: Self-adjusting, maintenance free bearings.
Transmission system: Maintenance free for life.
Control System: Integrated T&S UNI-MESS, control system.
Safety Features: Drive systems limited mechanically and electrically.
System Accuracy: Depend on VDI/VDE 2629.
This system error includes the sum of all measurement and mechanical errors.